CD EXIT TUNES PRESENTS Vocalohistory feat.Hatsune Miku [3939 Sets Limited Pressing Edition](Released)

CD EXIT TUNES PRESENTS Vocalohistory feat.初音ミク 3939セット限定生産盤
Exit Tunes (Release Date: mid Mar-2017)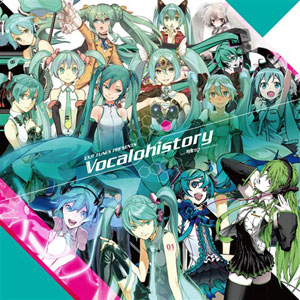 *Actual product may differ from photos.

Image file name : http://img.amiami.jp/images/product/main/171/MED-CD2-24682.jpg
Specifications
3939 Set Limited Pressing Edition
Set of 4 CDs
Details
Hatsune Miku compilation album!

Bonus:
-Book including newly drawn illustrations!
(Illustrations by Komine, CHRIS, Saine, Suzunosuke, hatsuko, MACCO, RAHWIA, riria009, wogura)
-Original can badges designed with former Vocaloid compilation illustration (15 types)
-Original postcards designed with former Vocaloid compilation illustration (15 types)
-Gorgeous LP size booklet
*Contents and specifics are subject to change without notice.
*Bonuses are limited in number. Distribution will be stopped as it reaches the end of the stock.

Track list: (planned)
Hatsune Miku no Shoushitsu / cosMo@ Bousou-P
Koi suru VOC@LOID / OSTER project
Yuuhizaka / doriko
Electric enjeu / Yasuo
celluloid / baker
Saihate / Onyx Kobayashi
Poppippo- / Lamaze P
Toruko Koushinkyoku -Owata- / Owata P
Motto Nobiro Bokuno Douga / Hikutsu P
1925 / Yuuto Tomita (tommy/ T-POCKET)
StargazeR / Kotsuban P
VOiCE / Lovely P
Hatsune Miku no Bousou- -Full ver.- / cosMo@ Bousou-P
Riajuu Bakuhatsu shiro! / KAZU-k & Hako Touka (Nayuta Touka)
1/6 -genesis mix- / Vocaliod P (noa)
Sakura Zensen Ijou Nashi / Wataru P
Rolling Girl / wowaka
E? Aa, sou. / Choucho P
Time machine / 1640mP (164 x 40mP)
Hannya Shinkyou Pop / Onuyu P
Torinokocity / 40mP
Himitsu Keisatsu / Buriru
Netoge Haijin Sprechchor / Satsuki ga Tenkomori
Shinpakusuu #0822 / Choucho P
Ie ni Kaeru to Tsuma ga Kanarazu Shindafuri wo Shite imasu. / Hobobi P
Mata Ashita / Fuwari P
Miraisen / 1640mP (164 x 40mP)
Gaikoku Gakudan to Riria / Toma
BadBye / koma'n
Senbonzakura / Kurousa
Ikimasu! Karaoke Ikkyokume / Hobobi P
FREELY TOMORROW / Mitchie M
Sakura no Ame / halyosy
Kochira, Koufuku Anshin Iinkai desu. / Utata P
Black Board / Choucho P
Kazemachi Hello World / add9 (Heri P)
bitter / keeno
Sarishinohara / Mikito P
Tokyo Retro / Scop
Shuuten / cosMo@ Bousou-P
Mousouzei / DECO*27
Time mashin / Onyuu P
Umiyuri Kaiteitan / n-buna
Renai Saiban / 40mP
Tsugihagi Staccato / Toa
Suroo mooshon / Pinocchio P
Exhibition Kuuchuusen / Nayutan Seijin
Meryu- / n-buna
cosMo@ Bousou-P newly written song
etc...
Japan Style
Information
About "AmiAmi English Site"

We are the largest online retailer of character and hobby goods in Japan.
At AmiAmi we offer a variety of items from figures and character goods to plastic models and DVDs at some of the lowest prices you'll find anywhere. All items are procured directly from official Japanese distributors and we guarantee all our items to be 100% authentic!
We do our best to suit the needs of our customers by offering various types of shipping & payment methods, and by offering customer support by email & phone in both English & Japanese!
Shop with confidence with AmiAmi!

Products

*100% Authentic: We offer a variety of items from figures and character goods to plastic models and DVDs. All items are procured directly from official distributors and 100% authenticity is guaranteed.

*Japanese Market Standard Made: Please note that most products are manufactured for the Japanese domestic market, therefore items such as video games, DVDs and download contents may be invalid when used from overseas.
If a product is made for or imported from overseas, or written in a language other than Japanese, it will be noted in the product page.

*Sale Status: AmiAmi sells items with various sale statuses: in-stock, pre-order, back-order, provisional pre-order, tentative pre-order. Please take note that not all items are in stock and eligible for instant shipping.


AmiAmi's Original Service

My Account
A personal page named "My Account" is given to each user. Through the "My Account" page, you can check your order history, update your shipping address and change your shipping & payment method.
Watch List
Watch List is a system that you can use to keep track of the items you want. Please note that adding an item to your watch list does not secure stock of that item for you.
AmiAmi Points
AmiAmi Points are points rewarded based on the price of the item purchased. The points are added to your account approximately 17 days after an order is shipped and can be used in your future purchases at the rate of 1 point = 1 JPY.
Customer Support

Shipping Methods

Payment Method

Cancellations

Returns
Company Information

AmiAmi / Oh-ami Inc.
4-21-11 Koishikawa, Bunkyo-ku, Tokyo 112-0002 JAPAN
Phone: +81-3-3813-5851 (Mon-Fri 12:00-17:00 JST, except Japanese holidays)