CD EXIT TUNES PRESENTS Vocalohistory feat.Hatsune Miku [3939 Sets Limited Pressing](Released)

CD EXIT TUNES PRESENTS Vocalohistory feat.初音ミク 3939セット限定生産盤
Exit Tunes (Release Date: mid Mar-2017)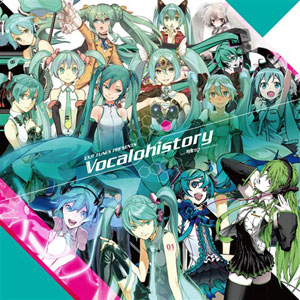 *Actual product may differ from photos.

Image file name : http://img.amiami.jp/images/product/main/171/MED-CD2-24682.jpg
Specifications
3939 Set Limited Pressing
Set of 4 CDs
Details
Hatsune Miku compilation album!

Bonus:
-Book including newly drawn illustrations!
(Illustrations by Komine, CHRIS, Saine, Suzunosuke, hatsuko, MACCO, RAHWIA, riria009, wogura)
-Original can badges designed with former Vocaloid compilation illustration (15 types)
-Original postcards designed with former Vocaloid compilation illustration (15 types)
-Gorgeous LP size booklet
*Contents and specifics are subject to change without notice.
*Bonuses are limited in number. Distribution will be stopped as it reaches the end of the stock.

Track list: (planned)
Hatsune Miku no Shoushitsu / cosMo@ Bousou-P
Koi suru VOC@LOID / OSTER project
Yuuhizaka / doriko
Electric enjeu / Yasuo
celluloid / baker
Saihate / Onyx Kobayashi
Poppippo- / Lamaze P
Toruko Koushinkyoku -Owata- / Owata P
Motto Nobiro Bokuno Douga / Hikutsu P
1925 / Yuuto Tomita (tommy/ T-POCKET)
StargazeR / Kotsuban P
VOiCE / Lovely P
Hatsune Miku no Bousou- -Full ver.- / cosMo@ Bousou-P
Riajuu Bakuhatsu shiro! / KAZU-k & Hako Touka (Nayuta Touka)
1/6 -genesis mix- / Vocaliod P (noa)
Sakura Zensen Ijou Nashi / Wataru P
Rolling Girl / wowaka
E? Aa, sou. / Choucho P
Time machine / 1640mP (164 x 40mP)
Hannya Shinkyou Pop / Onuyu P
Torinokocity / 40mP
Himitsu Keisatsu / Buriru
Netoge Haijin Sprechchor / Satsuki ga Tenkomori
Shinpakusuu #0822 / Choucho P
Ie ni Kaeru to Tsuma ga Kanarazu Shindafuri wo Shite imasu. / Hobobi P
Mata Ashita / Fuwari P
Miraisen / 1640mP (164 x 40mP)
Gaikoku Gakudan to Riria / Toma
BadBye / koma'n
Senbonzakura / Kurousa
Ikimasu! Karaoke Ikkyokume / Hobobi P
FREELY TOMORROW / Mitchie M
Sakura no Ame / halyosy
Kochira, Koufuku Anshin Iinkai desu. / Utata P
Black Board / Choucho P
Kazemachi Hello World / add9 (Heri P)
bitter / keeno
Sarishinohara / Mikito P
Tokyo Retro / Scop
Shuuten / cosMo@ Bousou-P
Mousouzei / DECO*27
Time mashin / Onyuu P
Umiyuri Kaiteitan / n-buna
Renai Saiban / 40mP
Tsugihagi Staccato / Toa
Suroo mooshon / Pinocchio P
Exhibition Kuuchuusen / Nayutan Seijin
Meryu- / n-buna
cosMo@ Bousou-P newly written song
etc...
Japan Style
Information
About "AmiAmi English Site"

This website is the English version of Japan's largest internet figure shop, AmiAmi. It is for both domestic English speakers and for international customers. Please note that most products are generally manufactured for the Japanese domestic market, and some items may be strictly for sale and use within Japan. Orders containing items that are unavailable for sale overseas will be automatically canceled and the customer notified.

Mail Communications

You should automatically receive an order acknowledgment mail shortly after placing an order at our store. If you do not receive a mail, please check your spam mail settings and make sure you are able to receive mails from our @amiami.com domain, and contact us using the Contact Us form on our website. Your order may be canceled if we are not able to contact you.

Payment Method

PayPal
- PayPal balance, eCheck, credit card
Credit card
- VISA, MasterCard, American Express, JCB, Diners Club
Cash on delivery (domestic only)
- 200 JPY COD fee required

Payment requests will be sent only after all items in an order are in stock.

Cancellations

Cancellations are not accepted.

Combined Shipping

Items may only be combined for shipping if they are all in-stock, or pre-orders scheduled to be released the same month. In-stock and back-ordered items can be combined with pre-order items scheduled to be released the current month.

Stock Status

The stock status of items at our store is updated regularly during business hours. There may be some cases where the stock status displayed on our website does not match our available stock and items that are shown on our website as available may actuality be sold out. Customers will be contacted if this occurs.
Shipping Methods

*EMS: 3-7 days delivery. Includes tracking and insurance up to 20,000 JPY. Recommended.
*Air Small Packet: 1-2 weeks delivery. Includes delivery confirmation and limited insurance up to 6,000 JPY. Size/weight restrictions apply.
*SAL Small Packet (Registered): 2-5 weeks delivery. Includes delivery confirmation and limited insurance up to 6,000 JPY.Size/weight restrictions apply.
*SAL Small Packet (Unregistered): 2-5 weeks delivery. No delivery confirmation, no insurance. Size/weight restrictions apply.
*SAL Parcel: 2-5 weeks delivery. Includes delivery confirmation and limited insurance. Some size/weight restrictions may apply.
*Sagawa Express: 1-2 days delivery within Japan via Sagawa Express. Includes tracking and delivery day/time may be specified. 500 JPY flat rate per order. Additional 200 JPY required for COD payments.


Delivery estimates are not guaranteed.

Shipping & Handling Fees (S&H)
We will inform you of the actual shipping rates for your items when your order is in stock and ready to ship. Please note that we cannot provide shipping quotes for pre-order items as we do not know their final size or weight.

Some rough estimates of EMS fees are as follows:

Small-Size Poseable Figure - appx. 1,500 JPY ~ 2,000 JPY, to North America
1/8 - 1/6 PVC Figure - appx. 2,000 JPY ~ 3,600 JPY, to North America
(Oceania is generally the same price, Asia is appx. 15% less, and Europe/South America are more expensive)

Please see our Payment/Shipping and FAQ for more detailed information.

AmiAmi Points

Purchases at our store may accumulate points based on item prices. Points for an order will be distributed approximately 17 days after order shipment, and may be redeemed for future purchases at the rate of 1 point = 1 JPY.

Watch List

Keep track of items by adding them to your watch list. Adding an item to your watch list does not secure stock of that item for your order.

Returns

All sales are final. No returns will be accepted, with the exception of defective items. Please contact us within 7 days of receipt if there is a problem with your item or order.
Contact Information

AmiAmi / Oh-ami Inc.
4-21-11 Koishikawa, Bunkyo-ku, Tokyo 112-0002 JAPAN
Phone: +81-3-3813-5851 (Mon-Fri 12:00-17:00 JST, except Japanese holidays)