CD Fate/Grand Order Original Soundtrack I(Back-order)

CD Fate/Grand Order Original Soundtrack I
SME (Release Date: early Mar-2017)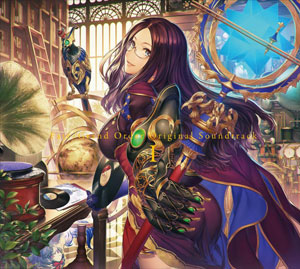 *Actual product may differ from photos.

Image file name : http://img.amiami.jp/images/product/main/171/MED-CD2-24472.jpg
© TYPE-MOON / FGO PROJECT
Specifications
Set of 3 CDs
Runtime: Approx. 120 min.
Details
Original soundtrack CD of App. game "Fate/Grand Order".

Track list:
[Disc 1]
1. Shikisai -GAME size-
2. Grand Order
3. My room
4. Caldea
5. Eiyuu Shoukan
6. Kiki nareta melody
7. Jinri no Hikari
8. Enjou Osen Toshi: Fuyuki
9. Jaryuu Hyakunen Sensou: Orleans
10. Emergency
11. Tsudoi shi Eiyuu -BATTLE 1-
12. Eizoku Kyouki Teikoku: Septem
13. Hagane no Kyouji -FATAL BATTLE 1-
14. Unmei -GRAND BATTLE-
15. Fuusa Shuukyoku Shikai: Oceanus
16. Nigiyaka na Tabiji
17. Fukutsu no Kakugo
18. Kizuna
19. Shikai Makiri Toshi: Longon
20. Anun wo Harae
21. Tanjou no Toki Kitareri -Otsukai no Shichuusen-
22. Shouri -BATTLE FINISH-
23. Hokubei Shinwa Taisen:E Pluribus Unum
24. Iginition -BATTLE 2-
25. Kioku no Kairo
26. Daitouou Koushinkyoku
27. Tokihanatsu Chikara -FATAL BATTLE 2-
28. Jinri no Ikari -Mashinchuusen-

[Disc 2]
1. Shinsei Entaku Ryouiki: Camelot I
2. Sankan nite
3. Shinsei Entaku Ryouiki: Camelot II
4. Rinsen
5. Shishi no Entaku -Senmetsu subeki Shinki no Tsurugi-
6. Shinsei Entaku Ryouiki: Camelot III
7. Shishi no Ouza
8. Saihate no Shitou -Megami Rhongomyniad sen-
9. Ima wa Haruka Risou no Shiro
10. Zettai Majuu Sensen: Babylonia
11. Saiko no Miyako
12. Ougon no Ou -FGO-
13. Osoi kuru Shinwa -Fukugou Shinsei Gorgon sen-
14. Zettai Majuu Sensen: Mesopotamia
15. dis-communication -Lahmu sen-
16. Shuuen
17. BEAST II -Tiamat sen-
18. Kani Jikan Shinden: Salomon
19. Youkouro Naberius
20. Jouhoushitsu Flauros
21. Kansokusho Forneus
22. Kanseitou Barbatos
23. Heisousha Halphas
24. Ukakusei Aamon
25. Seimeiin Sabnock
26. Haikikou Andromalius
27. outbreak -FGO-

[Disc 3]
1. Taikan no Toki kitareri
2. Shikisai -Sekka no Tate-
3. Shikisai -Sekibetsu no Toki kitareri-
4. Fate/Grand Order
5. Soukyuu no Mirai
6. Eternity Blue
7. Kimi no Negai
8. Utau Kabocha-jou no Bouken: Map theme
9. Sonic Barrage -FGO-
10. Hobo Shuukan Santa Oruta-san: Shop theme
11. My Room -NEW YEAR-
12. Yomigaeru Shinwa -FGO-
13. outbreak -Ibun-
14. wars -Ibun-
15. Kitotsu Suimu Makyou Rashoumon: Shop theme
16. Tenma Otogi Soushi Onigashima: Map theme
17. Raikou -Ushinomae sen-
18. Tenma Otogi Soushi Onigashima: BATTLE FINISH
19. Karudea summer memory: Map theme
20. Tokonatsu no adventure
21. Samba de Island -SUMMER BATTLE-
22. Uribou no theme
23. Karudea heat oddeysey: Map theme
24. Uribou no theme -Tabidachi-
25. Nerosai futatabi: Shop theme
26. Chougoku Dai Kabocha-mura: Map theme
27. Senketsu Majou -FGO-
28. Chougoku Dai Kabocha-mura: Shop theme
29. Nidaime wa Oruta-chan: Shop theme

*Specifics and content are subject to change without notice.
About Back-order Items
This item is back-ordered from the wholesaler.
If we are able to procure it, it will be sold to you like a regular item. However, please understand that the item will be canceled if we are unable to secure stock for it.
Payment request for the order will only be sent to you once we have secured the item, as we cannot guarantee stock availability right away.
It may take maximum 2 weeks for us to confirm whether the item can be procured.
*Extra days may be required depending on the business schedule of the wholesaler.

Japan Style
Information
About "AmiAmi English Site"

This website is the English version of Japan's largest internet figure shop, AmiAmi. It is for both domestic English speakers and for international customers. Please note that most products are generally manufactured for the Japanese domestic market, and some items may be strictly for sale and use within Japan. Orders containing items that are unavailable for sale overseas will be automatically canceled and the customer notified.

Mail Communications

You should automatically receive an order acknowledgment mail shortly after placing an order at our store. If you do not receive a mail, please check your spam mail settings and make sure you are able to receive mails from our @amiami.com domain, and contact us using the Contact Us form on our website. Your order may be canceled if we are not able to contact you.

Payment Method

PayPal
- PayPal balance, eCheck, credit card
Credit card
- VISA, MasterCard, American Express, JCB, Diners Club
Cash on delivery (domestic only)
- 200 JPY COD fee required

Payment requests will be sent only after all items in an order are in stock.

Cancellations

Cancellations are not accepted.

Combined Shipping

Items may only be combined for shipping if they are all in-stock, or pre-orders scheduled to be released the same month. In-stock and back-ordered items can be combined with pre-order items scheduled to be released the current month.

Stock Status

The stock status of items at our store is updated regularly during business hours. There may be some cases where the stock status displayed on our website does not match our available stock and items that are shown on our website as available may actuality be sold out. Customers will be contacted if this occurs.
Shipping Methods

*EMS: 3-7 days delivery. Includes tracking and insurance up to 20,000 JPY. Recommended.
*Air Small Packet: 1-2 weeks delivery. Includes delivery confirmation and limited insurance up to 6,000 JPY. Size/weight restrictions apply.
*SAL Small Packet (Registered): 2-5 weeks delivery. Includes delivery confirmation and limited insurance up to 6,000 JPY.Size/weight restrictions apply.
*SAL Small Packet (Unregistered): 2-5 weeks delivery. No delivery confirmation, no insurance. Size/weight restrictions apply.
*SAL Parcel: 2-5 weeks delivery. Includes delivery confirmation and limited insurance. Some size/weight restrictions may apply.
*Sagawa Express: 1-2 days delivery within Japan via Sagawa Express. Includes tracking and delivery day/time may be specified. 500 JPY flat rate per order. Additional 200 JPY required for COD payments.


Delivery estimates are not guaranteed.

Shipping & Handling Fees (S&H)
We will inform you of the actual shipping rates for your items when your order is in stock and ready to ship. Please note that we cannot provide shipping quotes for pre-order items as we do not know their final size or weight.

Some rough estimates of EMS fees are as follows:

Small-Size Poseable Figure - appx. 1,500 JPY ~ 2,000 JPY, to North America
1/8 - 1/6 PVC Figure - appx. 2,000 JPY ~ 3,600 JPY, to North America
(Oceania is generally the same price, Asia is appx. 15% less, and Europe/South America are more expensive)

Please see our Payment/Shipping and FAQ for more detailed information.

AmiAmi Points

Purchases at our store may accumulate points based on item prices. Points for an order will be distributed approximately 17 days after order shipment, and may be redeemed for future purchases at the rate of 1 point = 1 JPY.

Watch List

Keep track of items by adding them to your watch list. Adding an item to your watch list does not secure stock of that item for your order.

Returns

All sales are final. No returns will be accepted, with the exception of defective items. Please contact us within 7 days of receipt if there is a problem with your item or order.
Contact Information

AmiAmi / Oh-ami Inc.
4-21-11 Koishikawa, Bunkyo-ku, Tokyo 112-0002 JAPAN
Phone: +81-3-3813-5851 (Mon-Fri 12:00-17:00 JST, except Japanese holidays)