[Bonus] Nintendo Switch Taiko no Tatsujin Nintendo Switch Version!(Pre-order)

【特典】Nintendo Switch 太鼓の達人 Nintendo Switchば~じょん!
Bandai Namco (Release Date: mid Jul-2018)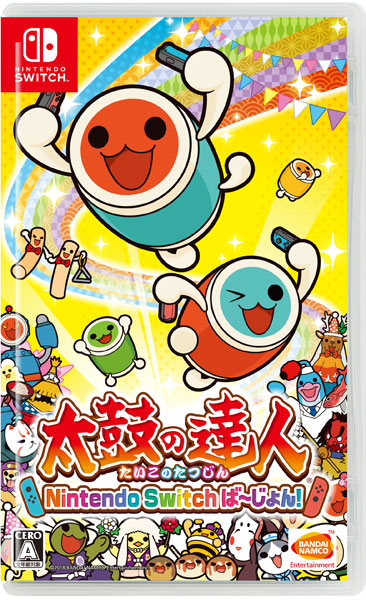 *Actual product may differ from photos.

Image file name : https://img.amiami.jp/images/product/main/182/GAME-0020053.jpg
© BANDAI NAMCO Entertainment Inc.
Specifications
Nintendo Switch Game Software
Players: Ensou Game: 1-2, Party Game: 1-4

[Set Contents]
-Nintendo Switch Taiko no Tatsujin Nintendo Switch Ba-Jon!
[Early Purchase Bonus]
-Download number for obtaining Ensou character "Gold Don-chan"
Details
Genre: Japanese taiko drum rhythm game

Some of included songs:
[Popular Music]
-Takane no Hanako-san back number
-Tomoni WANIMA
-TT -Japanese ver.-
-Zenzenzense (from movie "Your name.")
-R.Y.U.S.E.I.
-RPG
-Natsumatsuri
-Mita Koto mo Nai Keshiki au Santarou Soccer Ouen CM Song
-Sugar Song to Bitter Step
-Memeshikute
-TRAIN-TRAIN
-One Night Carnival
-Memeshikute (Golden Bomber)
-Silent Jealousy

[Anime]
-Dokomademo -How Far I'll Go- (from Disney movie "Moana")
-Howling (from "The Seven Deadly Sins: Revival of The Commandments")
-Be The One (from "Kamen Rider Build")
-Itsumo Nandodemo (from "Spirited Away")
-Arora!! (from "Pokemon Sun & Moon")
-CHA-LA HEAD-CHA-LA (from "Dragon Ball Z")
-A Cruel Angel's Thesis (from "Evangelion")
-Odore Dore Dora Doraemon Ondo
-Lupinranger VS Patranger
-POP TEAM EPIC (TV anime "Pop Team Epic" OP theme)
-Youkai Taisou Daiichi (from "Youkai Watch")
-We Are! (from "ONE PIECE")
-Odoru Ponpo Korin (from "Chibimaruko-chan")
-Sanbo (from "My Neighbor Totoro")
-Kimi ni 100 persent (from "Kureyon Shin-chan")
-Anpanman no March

[Vocaloid Songs]
-Haikei Doppelganger kemu
-Juu Mensou colorful ver. YM
-Onigiri wa Doko kashira Yomi

[Variety]
-YouTube theme song HIKAKIN & SEIKIN
-Grip & Break down!! -Tatsujin Edit. - Touhou Project Arranged SOUND HOLIC feat. Nana Takahashi
-Jounetsu Tairiku
-Bad Apple!! feat. nomico Touhou Project Arranged Alstroemeria Records
-Iro wa Nioi e Dochirinuru wo Touhou Project Arranged Yuuhei Satellite
-Song of ABC
-Omae Butamen! Oyatsu Company & The Puh

[Classic]
-Orpheus in the Underworld - Offenbach
-Flight of the Bumblebee - Rimsky-Korsakov
-Turkish march - Beethoven

[Game music]
-Jump Up, Super Star! Short Version (from "Super Mario Odyssey")
-Spatoon 2 Medley
-Kirby's Dream Land (from "Kirby's Dream Land Wii")
-PAC-MAN CHAMPIONSHIP EDITION 2 PLUS PAC TOY-BOX
-Anzu no Uta (from "THE IDOLM@STER CINDERELLA GIRLS")

[NAMCO Original]
-FuriFuri NoriNori
-Wa Aru do Herite Iji - Jo (feat. Yako Danchinomiya)
-Tabetemo Tabetemo *Shoji* (feat. Honoka Erika)
-void setup
-Eclan Le Blanc - Miho Tsujibayashi
-Tonde Mite - Tadahiko Yokogawa (feat. Yako Danchinomiya)

-Regarding Early Purchase Bonus
*The bonus may be distributed later on.
*Content and specifics are subjected to change without notice.
*Bonus items are packed inside the package.
*The download number is vaild until July. 18, 2019.
*Internet access to Nintendo eShop is required for using the download number.
*For more information regarding the bonuses, please check the official site.
Notice Regarding This Item
In cases of manufacturer stock shortages, pre-order items will be offered on a first come, first served basis.
About Pre-order Bonus
Some items may include pre-order bonuses, however there are many cases in which specific information about the items or quantity are uncertain. Due to this, in cases where there are no specifications regarding pre-order bonus items in the product title, pre-order bonus items will be provided on a first come, first served basis or by drawing lots. Unless specified in the item's title, we unfortunately cannot guarantee customers will receive the pre-order bonus.
Regarding First Release Editions
Some items are produced as First Release Editions, however there are many cases in which the specifics regarding this are uncertain and/or quantities are limited. Due to this, in cases where there are no specifications regarding first release editions or otherwise in the product title, those items will be provided on a first come, first served basis or by drawing lots. Although the item picture may depict the First Release Edition, in some extremely unusual cases the item delivered may be the regular edition, or vice versa.
Regarding Ordering Multiple First Release Editions in the Same Order
Customers may order several First Release Edition items (or items with pre-order bonuses) with different release dates in the same order. These items will be shipped according to the item with the latest release date, meaning items will not be shipped on the date of stock arrival. There may be some cases where our store is unable to provide the First Release Edition or bonus items due to the resulting delay in shipment. We recommend that customers who wish to receive the First Release Edition or Pre-Order Bonus Items place separate orders for each item to facilitate the fastest possible shipment.
Japan Style
Information
About "AmiAmi English Site"

We are the largest online retailer of character and hobby goods in Japan.
At AmiAmi we offer a variety of items from figures and character goods to plastic models and DVDs at some of the lowest prices you'll find anywhere. All items are procured directly from official Japanese distributors and we guarantee all our items to be 100% authentic!
We do our best to suit the needs of our customers by offering various types of shipping & payment methods, and by offering customer support by email & phone in both English & Japanese!
Shop with confidence with AmiAmi!

Products

*100% Authentic: We offer a variety of items from figures and character goods to plastic models and DVDs. All items are procured directly from official distributors and 100% authenticity is guaranteed.

*Japanese Market Standard Made: Please note that most products are manufactured for the Japanese domestic market, therefore items such as video games, DVDs and download contents may be invalid when used from overseas.
If a product is made for or imported from overseas, or written in a language other than Japanese, it will be noted in the product page.

*Sale Status: AmiAmi sells items with various sale statuses: in-stock, pre-order, back-order, provisional pre-order, tentative pre-order. Please take note that not all items are in stock and eligible for instant shipping.


AmiAmi's Original Service

My Account
A personal page named "My Account" is given to each user. Through the "My Account" page, you can check your order history, update your shipping address and change your shipping & payment method.
Watch List
Watch List is a system that you can use to keep track of the items you want. Please note that adding an item to your watch list does not secure stock of that item for you.
AmiAmi Points
AmiAmi Points are points rewarded based on the price of the item purchased. The points are added to your account approximately 17 days after an order is shipped and can be used in your future purchases at the rate of 1 point = 1 JPY.
Customer Support

Shipping Methods

Payment Method

Cancellations

Returns
Company Information

AmiAmi / Oh-ami Inc.
4-21-11 Koishikawa, Bunkyo-ku, Tokyo 112-0002 JAPAN
Phone: +81-3-3813-5851 (Mon-Fri 12:00-17:00 JST, except Japanese holidays)