Amazing Yamaguchi No.003 Venom(Pre-order)

アメイジング・ヤマグチ No.003 ヴェノム
Kaiyodo (Release Date: late Apr-2017)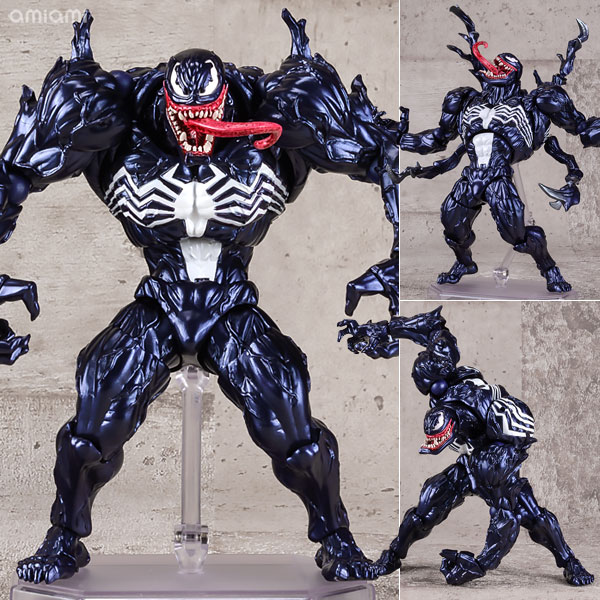 *Photos are of a prototype and the actual product may differ.

Image file name : http://img.amiami.jp/images/product/main/164/FIGURE-026819.jpg
© 2017 Marvel
Specifications
Size: Approx. H175mm
Material: Main Part: PVC, ABS / Joints: Nylon, POM
Articulation Points: 47
Joints Used: 22 (10mm joint x5, 8mm joint x2, 8mm special joint x2, 6mm joint x9, 6mm double joint x1, with barb 4mm joint x3)

[Set Contents]
-Main figure
-Optional head part x1
-Symbiote part x4
-Display stand x1
Details
Sculptor: Katsuhisa Yamaguchi

The world-popular villain "Venom" comes in the Amazing Yamaguchi series!

Venom's body has surpassed the size of a normal human being and almost looks like it's about to burst! Its powerful physique turned into a mass of muscles is faithfully recreated.
The Amazing Yamaguchi Venom features an overwhelming volume, out-of-the-ordinary expressions and an articulation range that you would never think possible for such a big figure!

The silhouette of Venom's thick muscles and the blood vessels all over them have been depicted in detail.

Large joints, ball joints and hinges are used extensively to support his heavy body, allowing you to pose him without issues.
You will surely be surprised to see the wide articulation range of this figure.

By dividing the shoulder blades it's possible to project the arm forward without interfering with the thick chest.
Since the shoulder blades are connected with ball joints, they can be moved in any direction.

The large fingers connected to his thick arms are all articulated.
You can put Venom in lots of different positions, among which roaring towards the sky and pointing his finger at his nemesis Spidey.

Washing paint has been used on Venom's distinctive split mouth, capturing his abnormal aspect.
His jaw can be opened and closed, and thanks to the joint at the base of his tongue you can position the tongue how you prefer.

The option face is replaced in a very easy way, by changing the whole head.
A face with one eye evidently distorted, as if he's targeting his prey, is included.

The Symbiote parts infesting his body all have joints of the same size, allowing you to attach them to many different points.
By connecting the Symbiote parts to each other you can recreate his stretched out arm like in the comics.
You can also reproduce him with the Symbiote at the end of his arm.
There are 4 holes on his back, making it possible to attach the Symbiote there too.
Thanks to the Revoltech common joints, it's possible to obtain lots of variations when combining Venom with the Symbiote.
Notice Regarding This Item
*This item is procured from the maker after an order has been placed. We may not be able to procure it if the maker is sold out.
About Pre-order Bonus
Some items may include pre-order bonuses, however there are many cases in which specific information about the items or quantity are uncertain. Due to this, in cases where there are no specifications regarding pre-order bonus items in the product title, pre-order bonus items will be provided on a first come, first served basis or by drawing lots. Unless specified in the item's title, we unfortunately cannot guarantee customers will receive the pre-order bonus.
Regarding First Release Editions
Some items are produced as First Release Editions, however there are many cases in which the specifics regarding this are uncertain and/or quantities are limited. Due to this, in cases where there are no specifications regarding first release editions or otherwise in the product title, those items will be provided on a first come, first served basis or by drawing lots. Although the item picture may depict the First Release Edition, in some extremely unusual cases the item delivered may be the regular edition, or vice versa.
Regarding Ordering Multiple First Release Editions in the Same Order
Customers may order several First Release Edition items (or items with pre-order bonuses) with different release dates in the same order. These items will be shipped according to the item with the latest release date, meaning items will not be shipped on the date of stock arrival. There may be some cases where our store is unable to provide the First Release Edition or bonus items due to the resulting delay in shipment. We recommend that customers who wish to receive the First Release Edition or Pre-Order Bonus Items place separate orders for each item to facilitate the fastest possible shipment.
Japan Style
Information
About "AmiAmi English Site"

This website is the English version of Japan's largest internet figure shop, AmiAmi. It is for both domestic English speakers and for international customers. Please note that most products are generally manufactured for the Japanese domestic market, and some items may be strictly for sale and use within Japan. Orders containing items that are unavailable for sale overseas will be automatically canceled and the customer notified.

Mail Communications

You should automatically receive an order acknowledgment mail shortly after placing an order at our store. If you do not receive a mail, please check your spam mail settings and make sure you are able to receive mails from our @amiami.com domain, and contact us using the Contact Us form on our website. Your order may be canceled if we are not able to contact you.

Payment Method

PayPal
- PayPal balance, eCheck, credit card
Credit card
- VISA, MasterCard, American Express, JCB, Diners Club
Cash on delivery (domestic only)
- 200 JPY COD fee required

Payment requests will be sent only after all items in an order are in stock.

Cancellations

Cancellations are not accepted.

Combined Shipping

Items may only be combined for shipping if they are all in-stock, or pre-orders scheduled to be released the same month. In-stock and back-ordered items can be combined with pre-order items scheduled to be released the current month.

Stock Status

The stock status of items at our store is updated regularly during business hours. There may be some cases where the stock status displayed on our website does not match our available stock and items that are shown on our website as available may actuality be sold out. Customers will be contacted if this occurs.
Shipping Methods

*EMS: 3-7 days delivery. Includes tracking and insurance up to 20,000 JPY. Recommended.
*Air Small Packet: 1-2 weeks delivery. Includes delivery confirmation and limited insurance up to 6,000 JPY. Size/weight restrictions apply.
*SAL Small Packet (Registered): 2-5 weeks delivery. Includes delivery confirmation and limited insurance up to 6,000 JPY.Size/weight restrictions apply.
*SAL Small Packet (Unregistered): 2-5 weeks delivery. No delivery confirmation, no insurance. Size/weight restrictions apply.
*SAL Parcel: 2-5 weeks delivery. Includes delivery confirmation and limited insurance. Some size/weight restrictions may apply.
*Sagawa Express: 1-2 days delivery within Japan via Sagawa Express. Includes tracking and delivery day/time may be specified. 500 JPY flat rate per order. Additional 200 JPY required for COD payments.


Delivery estimates are not guaranteed.

Shipping & Handling Fees (S&H)
We will inform you of the actual shipping rates for your items when your order is in stock and ready to ship. Please note that we cannot provide shipping quotes for pre-order items as we do not know their final size or weight.

Some rough estimates of EMS fees are as follows:

Small-Size Poseable Figure - appx. 1,500 JPY ~ 2,000 JPY, to North America
1/8 - 1/6 PVC Figure - appx. 2,000 JPY ~ 3,600 JPY, to North America
(Oceania is generally the same price, Asia is appx. 15% less, and Europe/South America are more expensive)

Please see our Payment/Shipping and FAQ for more detailed information.

AmiAmi Points

Purchases at our store may accumulate points based on item prices. Points for an order will be distributed approximately 17 days after order shipment, and may be redeemed for future purchases at the rate of 1 point = 1 JPY.

Watch List

Keep track of items by adding them to your watch list. Adding an item to your watch list does not secure stock of that item for your order.

Returns

All sales are final. No returns will be accepted, with the exception of defective items. Please contact us within 7 days of receipt if there is a problem with your item or order.
Contact Information

AmiAmi / Oh-ami Inc.
4-21-11 Koishikawa, Bunkyo-ku, Tokyo 112-0002 JAPAN
Phone: +81-3-3813-5851 (Mon-Fri 12:00-17:00 JST, except Japanese holidays)