Amazing Yamaguchi No.001 Deadpool(Tentative Pre-order)

アメイジング・ヤマグチ No.001 デッドプール
Kaiyodo (Release Date: late Jun-2018)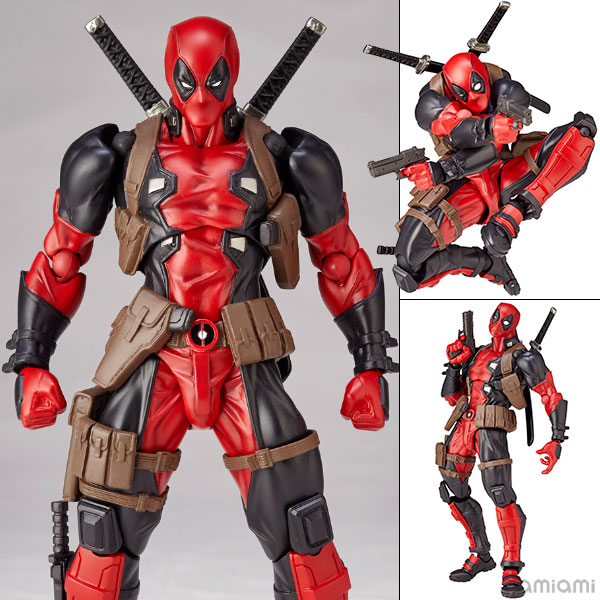 *Photos are of a prototype and the actual product may differ.

Image file name : https://img.amiami.jp/images/product/main/162/FIGURE-019879.jpg
© MARVEL
Related Items.
Specifications
Size: Approx. H160mm
Articulation Points: 36
Joints Used: 17
(10mm joint x3, 8mm joint x2, 6mm joint x4, 6mm double joint x2. 4mm joint x6)

[Set Contents]
-Main figure
-Japanese katana sword x2
-Scabbard x1
-Handgun x2
-Optional face
-Optional eyes x4 (frowning, surprised, comic style line eyes, heart)
-Optional hands x6 (open hand set, gun & sword gripping hand set, thumbs up hand set)
-Pick for exchanging eyes x1
-Display stand x1
Details
Sculptor: Yamaguchi Katsuhisa

Marvel's most unprecedented character has come out of the comics to become a figure!
-The comic version of "Deadpool", a character loved all around the world, comes in the Revo series!
-It's a posable figure that combines accurate details with action! Admire all the details meticulously created by the skilled sculptor Katsuhisa Yamaguchi!
-The 17 joints in his body allow a wide range of posability. You can recreates Deadpool's distinctive poses, like humorous poses and unconventional sword & gun action.
-The accordion structure of his stomach and the ball joints in his thigh allow for a wide movement range without compromising the proportions. In addition, the joints are not visible when you pose him, thus maintaining a beautiful body line.
-The sharp representation of muscles typical of American comics is incorporated in the figure, thoroughly reproducing the trained body of the "talkative mercenary". Enjoy the shape of the muscles visible under his suit. His equipment, boots, leg pads and other details all over his body are carefully sculpted.
-His favorite Japanese katana and handgun are included as optional weapons. Even in front of a strong enemy he pulls a joke and slashes him! You can act out Deadpool's serious and aggressive side too.
-You can recreate many different scenes with the 6 included optional hand parts: weapon holding hands, open hands and Deadpool's trademark thumbs up.
-To better represent Deadpool's rich facial expressions, particular even among American comic characters, an optional head and optional eyes are also included. The optional head is a surprised face where he has his mouth wide open in surprise, so much that even his mask looks deformed. The optional eyes include glaring eyes, surprised eyes, comical line eyes and heart shaped eyes, for plenty of different expressions.
You can choose to change one eye at a time.

Concept of the Amecomi Yamaguchi (tentative name) series:
-American comic characters x Yamaguchi style articulation.
-Many American comic characters move freely in all directions!
-Yamaguchi style articulation takes off to new frontiers to celebrate Revoltech's 10th anniversary.
-Katsuhisa Yamaguchi, master of articulated figures, raids the American comics world!

Katsuhisa Yamaguchi, skilled articulated figure sculptor from Kaiyodo, tries his hand at the world of American comic action figures.
American comic characters, with their unique and compelling action poses, are the perfect subject for Yamaguchi style action figures.
It's a new series whose concept is "to make characters move in a fascinating way". The theme is not only pure American comic characters but it will be expanded to "Amecomi taste" and "Amecomi arranged" Kaiyodo American comic characters, still different from the Revoltech Yamaguchi and Micro Yamaguchi Revol Mini created so far.

Revolver joints, mono shaft mechanism and other features which are the core of Yamaguchi style articulation will be chosen carefully to create fascinating action figures of many American comic characters, with both excellent visuals and posability.
Notice Regarding This Item
*This item is procured from the maker after an order has been placed. We may not be able to procure it if the maker is sold out.
About Pre-order Bonus
Some items may include pre-order bonuses, however there are many cases in which specific information about the items or quantity are uncertain. Due to this, in cases where there are no specifications regarding pre-order bonus items in the product title, pre-order bonus items will be provided on a first come, first served basis or by drawing lots. Unless specified in the item's title, we unfortunately cannot guarantee customers will receive the pre-order bonus.
Regarding First Release Editions
Some items are produced as First Release Editions, however there are many cases in which the specifics regarding this are uncertain and/or quantities are limited. Due to this, in cases where there are no specifications regarding first release editions or otherwise in the product title, those items will be provided on a first come, first served basis or by drawing lots. Although the item picture may depict the First Release Edition, in some extremely unusual cases the item delivered may be the regular edition, or vice versa.
Regarding Ordering Multiple First Release Editions in the Same Order
Customers may order several First Release Edition items (or items with pre-order bonuses) with different release dates in the same order. These items will be shipped according to the item with the latest release date, meaning items will not be shipped on the date of stock arrival. There may be some cases where our store is unable to provide the First Release Edition or bonus items due to the resulting delay in shipment. We recommend that customers who wish to receive the First Release Edition or Pre-Order Bonus Items place separate orders for each item to facilitate the fastest possible shipment.
Japan Style
Information
About "AmiAmi English Site"

We are the largest online retailer of character and hobby goods in Japan.
At AmiAmi we offer a variety of items from figures and character goods to plastic models and DVDs at some of the lowest prices you'll find anywhere. All items are procured directly from official Japanese distributors and we guarantee all our items to be 100% authentic!
We do our best to suit the needs of our customers by offering various types of shipping & payment methods, and by offering customer support by email & phone in both English & Japanese!
Shop with confidence with AmiAmi!

Products

*100% Authentic: We offer a variety of items from figures and character goods to plastic models and DVDs. All items are procured directly from official distributors and 100% authenticity is guaranteed.

*Japanese Market Standard Made: Please note that most products are manufactured for the Japanese domestic market, therefore items such as video games, DVDs and download contents may be invalid when used from overseas.
If a product is made for or imported from overseas, or written in a language other than Japanese, it will be noted in the product page.

*Sale Status: AmiAmi sells items with various sale statuses: in-stock, pre-order, back-order, provisional pre-order, tentative pre-order. Please take note that not all items are in stock and eligible for instant shipping.


AmiAmi's Original Service

My Account
A personal page named "My Account" is given to each user. Through the "My Account" page, you can check your order history, update your shipping address and change your shipping & payment method.
Watch List
Watch List is a system that you can use to keep track of the items you want. Please note that adding an item to your watch list does not secure stock of that item for you.
AmiAmi Points
AmiAmi Points are points rewarded based on the price of the item purchased. The points are added to your account approximately 17 days after an order is shipped and can be used in your future purchases at the rate of 1 point = 1 JPY.
Customer Support

Shipping Methods

Payment Method

Cancellations

Returns
Company Information

AmiAmi / Oh-ami Inc.
4-21-11 Koishikawa, Bunkyo-ku, Tokyo 112-0002 JAPAN
Phone: +81-3-3813-5851 (Mon-Fri 12:00-17:00 JST, except Japanese holidays)