DVD Musical "Sailor Moon" -Le Mouvement Final-(Back-order)

DVD ミュージカル 「美少女戦士セーラームーン」 -Le Mouvement Final-
King Records (Release Date: mid Mar-2018)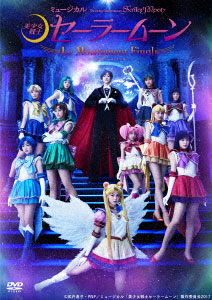 *Actual product may differ from photos.

Image file name : http://img.amiami.jp/images/product/main/181/MED-DVD2-39297.jpg
Related Items.
Details
Cast:
Sailor Moon/Usagi Tsukino: Hotaru Nomoto
Sailor Mercury/Ami Mizuno: Yume Takeuchi
Sailor Mars/Rei Hino: Karen Kobayashi
Sailor Jupiter/Makoto Kino: Kaede
Sailor Venus/Minako Aino: Rimo Hasegawa
Sailor Uranus/Haruka Tenou: Syu Shiotsuki
Sailor Neptune/Michiru Kaiou: Sayaka Fujioka
Sailor Pluto/Setsuna Meiou: Mikako Ishii
Sailor Saturn/Hotaru Tomoe: Mirai
Sailor Chibi Moon/Chibiusa (Rini) : Airi Kanda

Sailor Star Fighter/Kou Seiya: Meiku Harukawa
Sailor Star Maker/Kou Taiki: Riona Tatemichi
Sailor Star Healer/Kou Yaten: Saki Matsuda
Princess Kakyuu: Asami Okamura
Sailor Galaxia: Coco Isuzu
Sailor Iron Mouse: Shion Aoki
Sailor Tin Nyanko: Miyu Hashigaki
Sailor Aluminium Siren: Yuka Kobayashi
Sailor Lead Crow: Iriya Yuuto

Shadow Galactica: Yoshimi Hidano, Yukari Shiihara, Ayumi Sagisaka, Ayano Nagasawa

Chibichibi (W cast): Hinari Yamaguchi
Chibichibi (W cast): Chise Niitsu
Sailor Cosmos: Satomi Okubo
Tuxedo Mask/Mamoru Chiba: Yuga Yamato
About Back-order Items
This item is back-ordered from the wholesaler.
If we are able to procure it, it will be sold to you like a regular item. However, please understand that the item will be canceled if we are unable to secure stock for it.
Payment request for the order will only be sent to you once we have secured the item, as we cannot guarantee stock availability right away.
It may take maximum 2 weeks for us to confirm whether the item can be procured.
*Extra days may be required depending on the business schedule of the wholesaler.

Japan Style
Information
About "AmiAmi English Site"

We are the largest online retailer of character and hobby goods in Japan.
At AmiAmi we offer a variety of items from figures and character goods to plastic models and DVDs at some of the lowest prices you'll find anywhere. All items are procured directly from official Japanese distributors and we guarantee all our items to be 100% authentic!
We do our best to suit the needs of our customers by offering various types of shipping & payment methods, and by offering customer support by email & phone in both English & Japanese!
Shop with confidence with AmiAmi!

Products

*100% Authentic: We offer a variety of items from figures and character goods to plastic models and DVDs. All items are procured directly from official distributors and 100% authenticity is guaranteed.

*Japanese Market Standard Made: Please note that most products are manufactured for the Japanese domestic market, therefore items such as video games, DVDs and download contents may be invalid when used from overseas.
If a product is made for or imported from overseas, or written in a language other than Japanese, it will be noted in the product page.

*Sale Status: AmiAmi sells items with various sale statuses: in-stock, pre-order, back-order, provisional pre-order, tentative pre-order. Please take note that not all items are in stock and eligible for instant shipping.


AmiAmi's Original Service

My Account
A personal page named "My Account" is given to each user. Through the "My Account" page, you can check your order history, update your shipping address and change your shipping & payment method.
Watch List
Watch List is a system that you can use to keep track of the items you want. Please note that adding an item to your watch list does not secure stock of that item for you.
AmiAmi Points
AmiAmi Points are points rewarded based on the price of the item purchased. The points are added to your account approximately 17 days after an order is shipped and can be used in your future purchases at the rate of 1 point = 1 JPY.
Customer Support

Shipping Methods

Payment Method

Cancellations

Returns
Company Information

AmiAmi / Oh-ami Inc.
4-21-11 Koishikawa, Bunkyo-ku, Tokyo 112-0002 JAPAN
Phone: +81-3-3813-5851 (Mon-Fri 12:00-17:00 JST, except Japanese holidays)