BD Hyper Projection Engeki "Haikyuu!!" "Shinka no Natsu"(Tentative Pre-order)

BD ハイパープロジェクション演劇「ハイキュー!!」"進化の夏" (Blu-ray Disc)
Toho (Release Date: mid Mar-2018)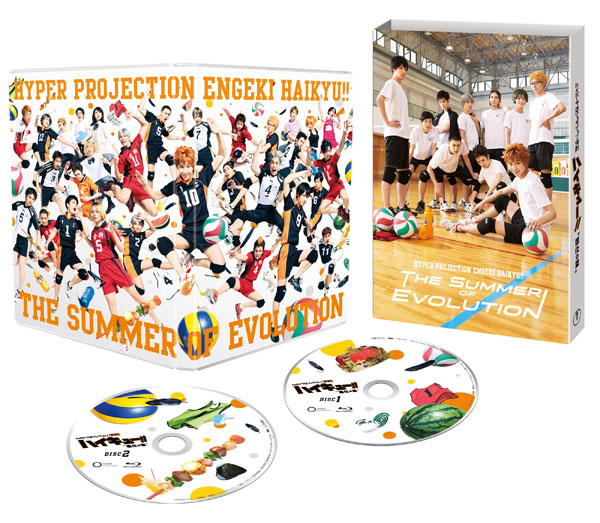 *Actual product may differ from photos.

Image file name : http://img.amiami.jp/images/product/main/173/MED-DVD2-37862.jpg
© 古舘春一/集英社・ハイパープロジェクション演劇「ハイキュー!!」製作委員会
Related Items.
Specifications
Set of 2 Blu-ray Discs
Runtime: Approx. 150 min.
1080p High Definition 16:9 Wide Screen/Single-sided Single-layer/Linear PCM
Details
Bonus:
-Bonus footage
Curtain call footage
Dai-senshuuraku full-view footage
Cast appearing bonus footage

*Content and specifics are subject to change without notice.

Cast:
[Karasuno High School]
Shoyo Hinata: Kenta Suga
Tobio Kageyama: Tatsuya Kageyama
Kei Tsukishima: Ryotaro Kosaka
Tadashi Yamaguchi: Kairi Miura
Ryunosuke Tanaka: Kouhei Shiota
Yu Nishinoya: Yuto Fuchino
Chikara Ennoshita: Kazuma Kawahara
Daichi Sawamura: Kentaro Akisawa
Koshi Sugawara: Hiroki Ino
Asahi Azumane: Justin Tomimori

[Nekoma High School]
Kenma Kozume: Takato Nagata
Tetsuro Kuroo: Shori Kondo
Nobuyuki Kai: Naoki Takeshi
Morisuke Yaku: Takeru Goto
Taketora Yamamoto: Bishin Kawasumi
Shohei Fukunaga: Hayate Kajihara
Lev Haiba: Noah Ishikura

[Fukurodani Academy]
Kotaro Bokuto: Kouki Yoshimoto
Keiji Akaashi: Kousei Yuki
Akinori Konoha: Takumi Higashi
Tatsuki Washio: Jun Miyake
Yamato Sarukui: Yuki Matsunami
Haruki Komi: Masaki Takane

[Karasuno High School OB, OG]
Makoto Shimada: Kento Yamaguchi
Saeko Tanaka: Momoko Sadachi
Akiteru Tsukishima: Soichiro Yamakawa

[Karasuno High School managers]
Kiyoko Shimizu: Shizune Nagao
Hitoka Yachi: Ami Saito

[Karasuno High School head, coach]
Ittetsu Takeda: Shige Uchida
Keishin Ukai: Tsuyoshi Hayashi
Notice Regarding This Item
*Confirmation of the item availability may take a week or more after its order has been placed as the maker's order deadline has already passed. Please understand that we may not be able to provide the the item if the maker is out of stock.
About Pre-order Bonus
Some items may include pre-order bonuses, however there are many cases in which specific information about the items or quantity are uncertain. Due to this, in cases where there are no specifications regarding pre-order bonus items in the product title, pre-order bonus items will be provided on a first come, first served basis or by drawing lots. Unless specified in the item's title, we unfortunately cannot guarantee customers will receive the pre-order bonus.
Regarding First Release Editions
Some items are produced as First Release Editions, however there are many cases in which the specifics regarding this are uncertain and/or quantities are limited. Due to this, in cases where there are no specifications regarding first release editions or otherwise in the product title, those items will be provided on a first come, first served basis or by drawing lots. Although the item picture may depict the First Release Edition, in some extremely unusual cases the item delivered may be the regular edition, or vice versa.
Regarding Ordering Multiple First Release Editions in the Same Order
Customers may order several First Release Edition items (or items with pre-order bonuses) with different release dates in the same order. These items will be shipped according to the item with the latest release date, meaning items will not be shipped on the date of stock arrival. There may be some cases where our store is unable to provide the First Release Edition or bonus items due to the resulting delay in shipment. We recommend that customers who wish to receive the First Release Edition or Pre-Order Bonus Items place separate orders for each item to facilitate the fastest possible shipment.
Japan Style
Information
About "AmiAmi English Site"

We are the largest online retailer of character and hobby goods in Japan.
At AmiAmi we offer a variety of items from figures and character goods to plastic models and DVDs at some of the lowest prices you'll find anywhere. All items are procured directly from official Japanese distributors and we guarantee all our items to be 100% authentic!
We do our best to suit the needs of our customers by offering various types of shipping & payment methods, and by offering customer support by email & phone in both English & Japanese!
Shop with confidence with AmiAmi!

Products

*100% Authentic: We offer a variety of items from figures and character goods to plastic models and DVDs. All items are procured directly from official distributors and 100% authenticity is guaranteed.

*Japanese Market Standard Made: Please note that most products are manufactured for the Japanese domestic market, therefore items such as video games, DVDs and download contents may be invalid when used from overseas.
If a product is made for or imported from overseas, or written in a language other than Japanese, it will be noted in the product page.

*Sale Status: AmiAmi sells items with various sale statuses: in-stock, pre-order, back-order, provisional pre-order, tentative pre-order. Please take note that not all items are in stock and eligible for instant shipping.


AmiAmi's Original Service

My Account
A personal page named "My Account" is given to each user. Through the "My Account" page, you can check your order history, update your shipping address and change your shipping & payment method.
Watch List
Watch List is a system that you can use to keep track of the items you want. Please note that adding an item to your watch list does not secure stock of that item for you.
AmiAmi Points
AmiAmi Points are points rewarded based on the price of the item purchased. The points are added to your account approximately 17 days after an order is shipped and can be used in your future purchases at the rate of 1 point = 1 JPY.
Customer Support

Shipping Methods

Payment Method

Cancellations

Returns
Company Information

AmiAmi / Oh-ami Inc.
4-21-11 Koishikawa, Bunkyo-ku, Tokyo 112-0002 JAPAN
Phone: +81-3-3813-5851 (Mon-Fri 12:00-17:00 JST, except Japanese holidays)