BD Mobile Suit Gundam Wing Blu-ray Box Vol.1 Special Package Limited Edition(Back-order)

BD 新機動戦記ガンダムW Blu-ray Box 1 特装限定版 (Blu-ray Disc)
Bandai Visual (Release Date: late Jun-2017)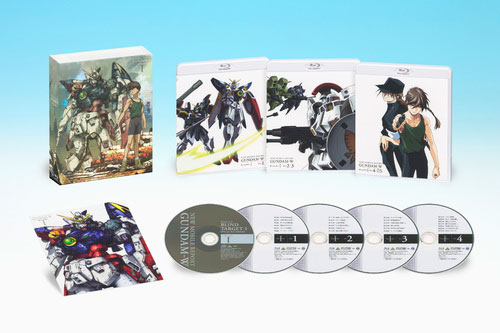 *Actual product may differ from photos.

Image file name : http://img.amiami.jp/images/product/main/171/MED-DVD2-36216.jpg

© 創通・サンライズ
Related Items.
Specifications
Special Package Limited Edition
Runtime: 599 min.
Included Episodes: 25 Episodes
Color/Linear PCM (stereo)/AVC/BD50G x 4 discs/4:3 (1080p High Definition)
Details
Blu-ray disc of HD remastered TV series "Mobile Suit Gundam Wing"!
This is a rerelease of Limited Pressing Edition (Nov. 2013 released) as Special Package Limited Edition!

Special Package Limited Edition bonus:
--32 pages booklet
--Drama CD "BLIND TARGET-1 [Blu-ray Box Edition] "
--Audio bonus
-Audio commentary
Episode 1 cast: Hikaru Midorikawa, Takehito Koyasu, Ryotaro Okiayu
Episode 2 cast: Hikaru Midorikawa, Akiko Yajima, Takehito Koyasu, Ryotaro Okiayu
--Newly illustrated storage box (Yoshihito Hishinuma, Iwao Teraoka)
--Newly illustrated inner jacket (Masanori Shino, Sakura Asagi)
*BCXA-0794 bonus "Newly illustrated 2in1 Box by Katoki Hajime" is not included.

Content:
Episode 1 "Shoujo ga Mita Ryuusei"/Episode 2 "Shinigami to Yobareru G (Gundam) "
Episode 3 "Gundam 5-ki Kakunin"/Episode 4 "Akuma no Victoria"/Episode 5 "Relena no Himitsu"
Episode 6 "Party Night"/Episode 7 "Ryuuketsu eno Scenario"
Episode 8 "Treize Ansatsu"/Episode 9 "Boukoku no Shouzou"
Episode 10 "Hiiro Senkou ni Chiru"/Episode 11 "Koufuku no Yukue"
Episode 12 "Mayoeru Senshi-tachi"/Episode 13 "Catherine no Namida"
Episode 14 "01 (zero one) Bakuha Shirei"/Episode 15 "Kessen no Basho Nankyoku e"
Episode 16 "Kanashiki Kessen"/Episode 17 "Uragiri no Tooki Kokyou"
Episode 18 "Tallgeese Hakai"/Episode 19 "Bulge Kyoushuu"
Episode 20 "Sennyuu, Getsumen Kichi"/Episode 21 "Kanashimi no Quatre"
Episode 22 "Dokuritsu wo Meguru Tatakai"/Episode 23 "Shinigami ni Modoru Duo"
Episode 24 "Zero to Yobareta G (Gundam) "/Episode 25 "Quatre VS Hiiro"

Cast:
Hiiro: Hikaru Midorikawa
Duo: Toshihiko Seki
Trowa: Shigeru Nakahara
Quatre: Ai Orikasa
Wufei: Ryuzou Ishino
Relena: Akiko Yajima
Zechs: Takehito Koyasu
Nein: Chisa Yokoyama
Treize: Ryotaro Okiayu
Lady Ann: Sayuri
Sally: Yumi Toma
Catherine: Saori Sugimoto
Narration: Akio Otsuka
other
About Back-order Items
This item is back-ordered from the wholesaler.
If we are able to procure it, it will be sold to you like a regular item. However, please understand that the item will be canceled if we are unable to secure stock for it.
Payment request for the order will only be sent to you once we have secured the item, as we cannot guarantee stock availability right away.
It may take maximum 2 weeks for us to confirm whether the item can be procured.
*Extra days may be required depending on the business schedule of the wholesaler.

Japan Style
Information
About "AmiAmi English Site"

We are the largest online retailer of character and hobby goods in Japan.
At AmiAmi we offer a variety of items from figures and character goods to plastic models and DVDs at some of the lowest prices you'll find anywhere. All items are procured directly from official Japanese distributors and we guarantee all our items to be 100% authentic!
We do our best to suit the needs of our customers by offering various types of shipping & payment methods, and by offering customer support by email & phone in both English & Japanese!
Shop with confidence with AmiAmi!

Products

*100% Authentic: We offer a variety of items from figures and character goods to plastic models and DVDs. All items are procured directly from official distributors and 100% authenticity is guaranteed.

*Japanese Market Standard Made: Please note that most products are manufactured for the Japanese domestic market, therefore items such as video games, DVDs and download contents may be invalid when used from overseas.
If a product is made for or imported from overseas, or written in a language other than Japanese, it will be noted in the product page.

*Sale Status: AmiAmi sells items with various sale statuses: in-stock, pre-order, back-order, provisional pre-order, tentative pre-order. Please take note that not all items are in stock and eligible for instant shipping.


AmiAmi's Original Service

My Account
A personal page named "My Account" is given to each user. Through the "My Account" page, you can check your order history, update your shipping address and change your shipping & payment method.
Watch List
Watch List is a system that you can use to keep track of the items you want. Please note that adding an item to your watch list does not secure stock of that item for you.
AmiAmi Points
AmiAmi Points are points rewarded based on the price of the item purchased. The points are added to your account approximately 17 days after an order is shipped and can be used in your future purchases at the rate of 1 point = 1 JPY.
Customer Support

Shipping Methods

Payment Method

Cancellations

Returns
Company Information

AmiAmi / Oh-ami Inc.
4-21-11 Koishikawa, Bunkyo-ku, Tokyo 112-0002 JAPAN
Phone: +81-3-3813-5851 (Mon-Fri 12:00-17:00 JST, except Japanese holidays)