CD Legend of Heroes: Sen no Kiseki III Original Soundtrack Part.1 & 2 -Complete Edition-(Back-order)

CD 英雄伝説 閃の軌跡 III オリジナルサウンドトラック上下巻~完全版~
Nihon Falcom (Release Date: mid Nov-2017)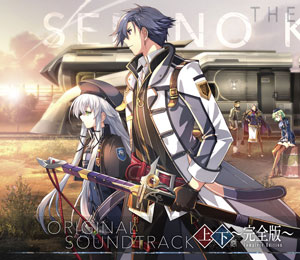 *Actual product may differ from photos.

Image file name : http://img.amiami.jp/images/product/main/174/MED-CD2-27259.jpg
Related Items.
Specifications
Complete Edition
Special Sleeve Case
Details
A set of Part.1 CD and Part.2 CD containing songs from the beginning to the end of the story of the PS4 game "Legend of Heroes: Sen no Kiseki III".

This set comes packed in a newly illustrated sleeve case!

Part.1 Track list: (total of 46 songs)
-DISC 1
1. Spiral of Erebos -Pre Opening Size- / 2. Ikitsuku Saki -Opening Size- / 3. Atarasii Asa / 4. Shunpuu Taitou / 5. Briefing Time / 6. Rasetsu no Kuntou / 7. Itan no Kenkyuusha / 8. Einhell Shouyousai / 9. Brave Steel / 10. Toughness!! / 11. Youthful Victory / 12. Start Line / 13. Jugyou wa Goudou de / 14. Gekou Tochuu ni Pancake / 15. Kanousei wa Mugendai / 16. Yoru no Shijima ni / 17. Welcome Back! Abend Time / 18. Power or Technique / 19. Kengeki Dotou / 20. Base Camp / 21. Nagareru Kumo no Kanata ni / 22. Hakua no Kyuuto Saint-arkh / 23. Bousekichou Parm

-DISC 2
1. Weathering Road / 2. Hamel -Nokosareta Mono- / 3. Konkyuu no Tairitsu / 4. STEP AHEAD / 5. Todoroku Inbou / 6. Lift-off! / 7. Kiro e / 8. Juujitsu shita Hitotoki / 9. Seijaku no Kouji / 10. Kago no Naka no Crossbell / 11. Haritsumeta Shiwaku / 12. Tsuka no Ma ni Satogaeri / 13. Unplanned Residue / 14. Abrupt Visitor / 15. Omoi Senri wo Hashiri / 16. Cheep Trap / 17. Uchikudakareta Kokoro / 18. Saizensen Toshi / 19. Concept H. M. I. / 20. Kimi ni Tsutaetai Koto / 21. Wasurerareshi Genmu no Hazama -Sen Ver. - / 22. Erosion of Madness / 23. Ikitsuku Saki

Part.2 Track list: (total of 44 songs)
-DISC 1
1. Dai II Bunkou no Nichijou / 2. Little Rain / 3. Seikyou naru Hei-tachi / 4. Konpeki no Kaito Ordis / 5. Proud Grudge / 6. Gaikoku no Hazama / 7. Shinuchi Toujou! / 8. Kanraku Toshi Rakuwell / 9. Brilliant Escape / 10. Shizukanaru Kakehiki / 11. Vantage Masters / 12. Denshou no Ura de / 13. Kakuriyo no Kehai / 14. Ikitsuku Saki -Instrumental Ver. - / 15. Ressei wo Bankai seyo! / 16. solid as the Rock of JUNO / 17. Sekikei / 18. Hikarisasu Sora no Shita de / 19. Kakueki taru Heimdall / 20. Megami wa Itsmo Miteimasu / 21. Gate in / 22. Kaze yori mo Hayaku / 23. Chika ni Sukuu / 24. Ano Hi no Yakusoku

-DISC 2
1. One-Way to the Netherworld / 2. Accursed Tycoon / 3. Geshimatsuri / 4. Arishi Hi no Melody / 5. Hisui Teien / 6. Hajimete no Enbukyoku / 7. Takusareta Mono / 8. Roots of Scar / 9. Kyuuten Chokka / 10. An'un / 11. Kane, Nari Hibiku Toki / 12. Wazuka na Kibou no Saki ni / 13. DOOMSDAY TRANCE / 14. Spiral of Erebos / 15. Tragedy / 16. Ima, Nasubeki Koto / 17. Ooinaru Tasogare / 18. Nageki no Refrain / 19. Sora wo Miagete -Eliot Ver. - / 20. Remedy Fantasia

All music by Falcom Sound Team jdk

*CD content are the same as single sold Part.1 CD (NW-10103440) and Part.2 CD (NW-10103450).
About Back-order Items
This item is back-ordered from the wholesaler.
If we are able to procure it, it will be sold to you like a regular item. However, please understand that the item will be canceled if we are unable to secure stock for it.
Payment request for the order will only be sent to you once we have secured the item, as we cannot guarantee stock availability right away.
It may take maximum 2 weeks for us to confirm whether the item can be procured.
*Extra days may be required depending on the business schedule of the wholesaler.

Japan Style
Information
About "AmiAmi English Site"

We are the largest online retailer of character and hobby goods in Japan.
At AmiAmi we offer a variety of items from figures and character goods to plastic models and DVDs at some of the lowest prices you'll find anywhere. All items are procured directly from official Japanese distributors and we guarantee all our items to be 100% authentic!
We do our best to suit the needs of our customers by offering various types of shipping & payment methods, and by offering customer support by email & phone in both English & Japanese!
Shop with confidence with AmiAmi!

Products

*100% Authentic: We offer a variety of items from figures and character goods to plastic models and DVDs. All items are procured directly from official distributors and 100% authenticity is guaranteed.

*Japanese Market Standard Made: Please note that most products are manufactured for the Japanese domestic market, therefore items such as video games, DVDs and download contents may be invalid when used from overseas.
If a product is made for or imported from overseas, or written in a language other than Japanese, it will be noted in the product page.

*Sale Status: AmiAmi sells items with various sale statuses: in-stock, pre-order, back-order, provisional pre-order, tentative pre-order. Please take note that not all items are in stock and eligible for instant shipping.


AmiAmi's Original Service

My Account
A personal page named "My Account" is given to each user. Through the "My Account" page, you can check your order history, update your shipping address and change your shipping & payment method.
Watch List
Watch List is a system that you can use to keep track of the items you want. Please note that adding an item to your watch list does not secure stock of that item for you.
AmiAmi Points
AmiAmi Points are points rewarded based on the price of the item purchased. The points are added to your account approximately 17 days after an order is shipped and can be used in your future purchases at the rate of 1 point = 1 JPY.
Customer Support

Shipping Methods

Payment Method

Cancellations

Returns
Company Information

AmiAmi / Oh-ami Inc.
4-21-11 Koishikawa, Bunkyo-ku, Tokyo 112-0002 JAPAN
Phone: +81-3-3813-5851 (Mon-Fri 12:00-17:00 JST, except Japanese holidays)