Megami Device - Chaos & Pretty Witch 1/1 Plastic Model(Pre-order)

メガミデバイス Chaos & Pretty ウィッチ 1/1 プラモデル
Kotobukiya (Release Date: Jul-2018)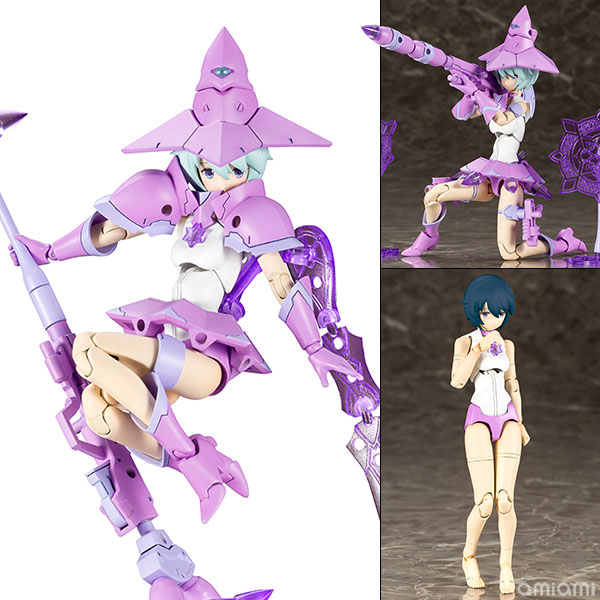 *Photos are of a completed, painted sample. The actual product may differ.

Image file name : https://img.amiami.jp/images/product/main/181/FIGURE-037276.jpg
© KOTOBUKIYA・RAMPAGE (C)Masaki Apsy
Related Items.
Specifications
Plastic Model Kit
Scale: 1/1
Size: Approx. H140mm
Details
Sculptor: Masaki Apsy, Hiro, Shuichi Kanoshima

8th volume of the "Bishoujo x Mechanic" series, Megami Device!
The newest release is "Chaos & Pretty Witch"!

"Megami Device" is a new plastic model kit series where you enjoy attaching weapons and armor parts to articulated bishoujo models.
The main body model "machineca" is newly designed by Masaki Apsy, and the designer of this 8th volume is Ryou Nagi!

Accessories/Gimmicks:
-Each character comes with 3 pre-painted face parts.
-By changing the parts it's possible to recreate either a "busou mode" (armor mode) with an armor in witch style or a "sotai mode" (normal body mode) without the armor.
-Various combat scene can be recreated thanks to the abundant joint parts and clear molded effect parts.
-Thanks to the surprising articulation range of the new body "machineca", it's possible to recreate poses with weapons and sitting poses that look natural.
-Flesh color arms and legs are included. For the toes, "barefoot" parts are included in the set.
-2 colors of hair parts are included. Both "busou mode" and "sotai mode" can be enjoyed.
-It comes with 7 different pairs of PVC hand parts. They feature 3mm diameter holes that make it compatible with previously released items from the M.S.G series, Frame Arms and Frame Arms Girl series.
-Decals for the eyes and markings are included.

What is Megami Device?
It's a plastic model series featuring 14cm tall figure robots that can stand on their own. They can be enjoyed like plastic models, remodeling them and having them fight like a "near future battle hobby".
The main body "machineca" is designed by posable figure leader Masaki Apsy and the character & mechanics are by many different designers.
The mold has different colors and the faces are pre-painted with tampo printing, making it possible to obtain a finished product close to the product image by just assembling the kit.
Thanks to the 3mm diameter holes, items are compatible with future products of the same series and also with the many other Kotobukiya plastic model parts that have been released so far.
Notice Regarding This Item
In cases of manufacturer stock shortages, pre-order items will be offered on a first come, first served basis.
About Pre-order Bonus
Some items may include pre-order bonuses, however there are many cases in which specific information about the items or quantity are uncertain. Due to this, in cases where there are no specifications regarding pre-order bonus items in the product title, pre-order bonus items will be provided on a first come, first served basis or by drawing lots. Unless specified in the item's title, we unfortunately cannot guarantee customers will receive the pre-order bonus.
Regarding First Release Editions
Some items are produced as First Release Editions, however there are many cases in which the specifics regarding this are uncertain and/or quantities are limited. Due to this, in cases where there are no specifications regarding first release editions or otherwise in the product title, those items will be provided on a first come, first served basis or by drawing lots. Although the item picture may depict the First Release Edition, in some extremely unusual cases the item delivered may be the regular edition, or vice versa.
Regarding Ordering Multiple First Release Editions in the Same Order
Customers may order several First Release Edition items (or items with pre-order bonuses) with different release dates in the same order. These items will be shipped according to the item with the latest release date, meaning items will not be shipped on the date of stock arrival. There may be some cases where our store is unable to provide the First Release Edition or bonus items due to the resulting delay in shipment. We recommend that customers who wish to receive the First Release Edition or Pre-Order Bonus Items place separate orders for each item to facilitate the fastest possible shipment.
Japan Style
Information
About "AmiAmi English Site"

We are the largest online retailer of character and hobby goods in Japan.
At AmiAmi we offer a variety of items from figures and character goods to plastic models and DVDs at some of the lowest prices you'll find anywhere. All items are procured directly from official Japanese distributors and we guarantee all our items to be 100% authentic!
We do our best to suit the needs of our customers by offering various types of shipping & payment methods, and by offering customer support by email & phone in both English & Japanese!
Shop with confidence with AmiAmi!

Products

*100% Authentic: We offer a variety of items from figures and character goods to plastic models and DVDs. All items are procured directly from official distributors and 100% authenticity is guaranteed.

*Japanese Market Standard Made: Please note that most products are manufactured for the Japanese domestic market, therefore items such as video games, DVDs and download contents may be invalid when used from overseas.
If a product is made for or imported from overseas, or written in a language other than Japanese, it will be noted in the product page.

*Sale Status: AmiAmi sells items with various sale statuses: in-stock, pre-order, back-order, provisional pre-order, tentative pre-order. Please take note that not all items are in stock and eligible for instant shipping.


AmiAmi's Original Service

My Account
A personal page named "My Account" is given to each user. Through the "My Account" page, you can check your order history, update your shipping address and change your shipping & payment method.
Watch List
Watch List is a system that you can use to keep track of the items you want. Please note that adding an item to your watch list does not secure stock of that item for you.
AmiAmi Points
AmiAmi Points are points rewarded based on the price of the item purchased. The points are added to your account approximately 17 days after an order is shipped and can be used in your future purchases at the rate of 1 point = 1 JPY.
Customer Support

Shipping Methods

Payment Method

Cancellations

Returns
Company Information

AmiAmi / Oh-ami Inc.
4-21-11 Koishikawa, Bunkyo-ku, Tokyo 112-0002 JAPAN
Phone: +81-3-3813-5851 (Mon-Fri 12:00-17:00 JST, except Japanese holidays)