Vulcanlog 019 MonHunRevo Hunter Male Swordsman Glavenus Series(Released)

Vulcanlog(ヴァルカン-ログ) 019 モンハンリボ ハンター男剣士 ディノシリーズ
Union Creative (Release Date: Apr-2017)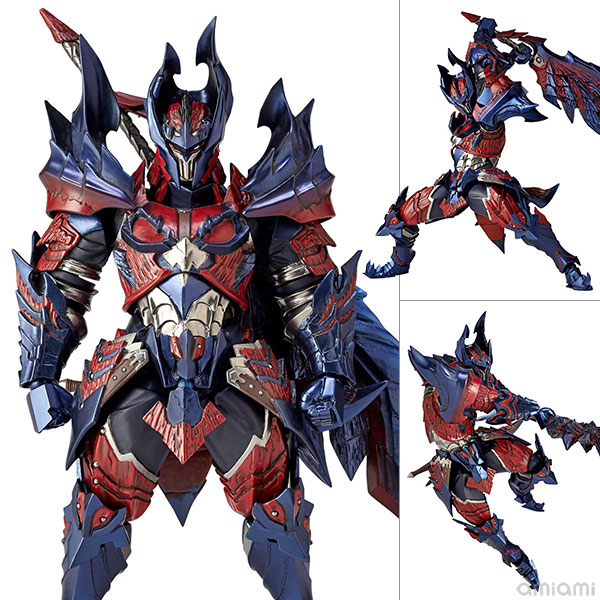 *Photos are of a prototype and the actual product may differ.

Image file name : http://img.amiami.jp/images/product/main/164/FIGURE-023286.jpg
© CAPCOM CO., LTD. ALL RIGHTS RESERVED.
Related Items.
Specifications
Size: Approx. H180mm
Articulation Points: 31
Joints Used: 10mm Joint x7, 3mm Joint x7, 8mm Joint x4, Double-shape Joint x2, 6mm Joint x4

[Set Contents]
-Main figure
-Shakunetsu no blazer x1
-Hagitori knife x1
-Optional hand part x4
-Effect base x1
-Display base x1 (6mm double joint x1)
Details
Sculptor: Katsuhisa Yamaguchi

From the hit game "Monter Hunter X" comes a Hunter Male Swordsman Glavenus Series!

-A heavy armor made from the cutting wyvern Glavenus, but with a surprising articulation range.
While having a robust appearance, the articulation range allows for free posing.
-The figure has 24 joints that will make it possible to put it in a variety of positions.
You will be able to recreate poses from the game and showy action poses.
The shoulder armor and the armor around the legs have a joint inside and can also be posed.
-The sculptor Katsuhisa Yamaguchi has added plenty of details to recreate this armor, whose fierce design makes it look like it was just cut out of the flame-like shell of the Glavenus.
In addition, it's painted with hot red and Glavenus' indigo body color.
Enjoy the impressive presence of this figure!
-The joints will firmly keep the position, so that it's possible for the figure to swing the huge flaming sword.
Regardless of whether you wield the sword over the top of his head or swing it to the side, it will keep the pose.
-It comes with optional hands such as open hands and hands to old weapons, to recreate many situations.
-It includes a base with an articulated pole to pose the figure with spread out legs or like it's jumping on a prey.
-If you display it together with separately sold Felyne and Melynx you will be able to experience the atmosphere of the series even more!
Japan Style
Information
About "AmiAmi English Site"

This website is the English version of Japan's largest internet figure shop, AmiAmi. It is for both domestic English speakers and for international customers. Please note that most products are generally manufactured for the Japanese domestic market, and some items may be strictly for sale and use within Japan. Orders containing items that are unavailable for sale overseas will be automatically canceled and the customer notified.

Mail Communications

You should automatically receive an order acknowledgment mail shortly after placing an order at our store. If you do not receive a mail, please check your spam mail settings and make sure you are able to receive mails from our @amiami.com domain, and contact us using the Contact Us form on our website. Your order may be canceled if we are not able to contact you.

Payment Method

PayPal
- PayPal balance, eCheck, credit card
Credit card
- VISA, MasterCard, American Express, JCB, Diners Club
Cash on delivery (domestic only)
- 200 JPY COD fee required

Payment requests will be sent only after all items in an order are in stock.

Cancellations

Cancellations are not accepted.

Combined Shipping

Items may only be combined for shipping if they are all in-stock, or pre-orders scheduled to be released the same month. In-stock and back-ordered items can be combined with pre-order items scheduled to be released the current month.

Stock Status

The stock status of items at our store is updated regularly during business hours. There may be some cases where the stock status displayed on our website does not match our available stock and items that are shown on our website as available may actuality be sold out. Customers will be contacted if this occurs.
Shipping Methods

*EMS: 3-7 days delivery. Includes tracking and insurance up to 20,000 JPY. Recommended.
*Air Small Packet: 1-2 weeks delivery. Includes delivery confirmation and limited insurance up to 6,000 JPY. Size/weight restrictions apply.
*SAL Small Packet (Registered): 2-5 weeks delivery. Includes delivery confirmation and limited insurance up to 6,000 JPY.Size/weight restrictions apply.
*SAL Small Packet (Unregistered): 2-5 weeks delivery. No delivery confirmation, no insurance. Size/weight restrictions apply.
*SAL Parcel: 2-5 weeks delivery. Includes delivery confirmation and limited insurance. Some size/weight restrictions may apply.
*Sagawa Express: 1-2 days delivery within Japan via Sagawa Express. Includes tracking and delivery day/time may be specified. 500 JPY flat rate per order. Additional 200 JPY required for COD payments.


Delivery estimates are not guaranteed.

Shipping & Handling Fees (S&H)
We will inform you of the actual shipping rates for your items when your order is in stock and ready to ship. Please note that we cannot provide shipping quotes for pre-order items as we do not know their final size or weight.

Some rough estimates of EMS fees are as follows:

Small-Size Poseable Figure - appx. 1,500 JPY ~ 2,000 JPY, to North America
1/8 - 1/6 PVC Figure - appx. 2,000 JPY ~ 3,600 JPY, to North America
(Oceania is generally the same price, Asia is appx. 15% less, and Europe/South America are more expensive)

Please see our Payment/Shipping and FAQ for more detailed information.

AmiAmi Points

Purchases at our store may accumulate points based on item prices. Points for an order will be distributed approximately 17 days after order shipment, and may be redeemed for future purchases at the rate of 1 point = 1 JPY.

Watch List

Keep track of items by adding them to your watch list. Adding an item to your watch list does not secure stock of that item for your order.

Returns

All sales are final. No returns will be accepted, with the exception of defective items. Please contact us within 7 days of receipt if there is a problem with your item or order.
Contact Information

AmiAmi / Oh-ami Inc.
4-21-11 Koishikawa, Bunkyo-ku, Tokyo 112-0002 JAPAN
Phone: +81-3-3813-5851 (Mon-Fri 12:00-17:00 JST, except Japanese holidays)