(Pre-owned ITEM:B/BOX:B)The Melancholy of Haruhi Suzumiya - Haruhi Suzumiya Extravaganza Ver. 1/8 Complete Figure(Released)

涼宮ハルヒの憂鬱 涼宮ハルヒ 激奏Ver. 1/8 完成品フィギュア
Max Factory (Release Date: Mar-2009)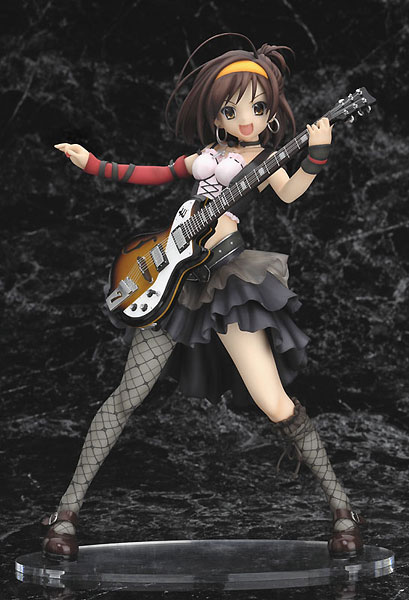 Image file name : https://img.amiami.jp/images/product/main/084/FIG-MOE-0385.jpg
© 2006 谷川流・いとうのいぢ/SOS団
Specifications
PVC Pre-painted Complete Figure
Scale: 1/8
Size: Approx. H210mm
Details
Listen to the cries of my heart!!

A new release as part of Max Factory's "The Melancholy of Haruhi Suzumiya" series brings us another figure of Haruhi Suzumiya - this time in a punk style outfit based off an promotion illustration used for the live event "The Extravaganza of Haruhi Suzumiya".

Masanori Kuroda, the expert sculptor who worked on the original school uniform version of Haruhi, has taken the original image and added a dynamic, liberated feeling to the figure - creating a figure just as charming as the original illustration. Her voluminous skirt as well as all the tiny frills on her costume have all had careful attention paid to the finest of details, and the elaborately designed guitar she holds is yet another highlight of the figure.

Her vibrant facial expression truly brings out the confidence that Haruhi has always held true to - bringing out a lively figure fit for this worldwide idol.
Notice Regarding Pre-Owned Item
[Condition Ranking for Pre-owned Items]

Condition Ranking for Item
S: New - Guaranteed to be unused and unopened.
A: Like New - Item is sealed and is unopened or appears to be unopened.
A-: Like New - Item is not sealed by the maker but appears to be unopened.
B+: Very Good - Item has been opened but does not contain any signs of damage. All parts are included.
B: Good - Item has been opened and contains signs of minor wear or damage. All parts are included.
C: Acceptable - Opened item with conspicuous damage. Parts may be missing.
J: Unacceptable - Item is missing parts and/or is severely damaged.

The above ranking is offered as a guideline for users purchasing pre-owned items from our shop. We cannot accept returns or offer service for any pre-owned items for reasons regarding the item's condition. Please keep this in mind when placing your order.

Condition Ranking for Outer Box
A: No damage to the box is visible.
B: Some damage to the box is visible.
C: Box is clearly damaged.
N: No box/packaging is included. (item is loose)

- Product Images
All images are of new items. Please refer to the condition ranking for the actual condition of the product.

- Damage and Stains
Because pre-owned items are not procured from the maker, some items may contain damage or stains. Please only place orders for pre-owned items after understanding the nature of the condition of such items.

- Set Contents
The inclusion of food, serial codes (download codes), batteries and the remaining battery power are not guaranteed for pre-owned items.
Please be aware of this before placing an order.

Remarks
For sale in Japan only.
Japan Style
Information
About "AmiAmi English Site"

We are the largest online retailer of character and hobby goods in Japan.
At AmiAmi we offer a variety of items from figures and character goods to plastic models and DVDs at some of the lowest prices you'll find anywhere. All items are procured directly from official Japanese distributors and we guarantee all our items to be 100% authentic!
We do our best to suit the needs of our customers by offering various types of shipping & payment methods, and by offering customer support by email & phone in both English & Japanese!
Shop with confidence with AmiAmi!

Products

*100% Authentic: We offer a variety of items from figures and character goods to plastic models and DVDs. All items are procured directly from official distributors and 100% authenticity is guaranteed.

*Japanese Market Standard Made: Please note that most products are manufactured for the Japanese domestic market, therefore items such as video games, DVDs and download contents may be invalid when used from overseas.
If a product is made for or imported from overseas, or written in a language other than Japanese, it will be noted in the product page.

*Sale Status: AmiAmi sells items with various sale statuses: in-stock, pre-order, back-order, provisional pre-order, tentative pre-order. Please take note that not all items are in stock and eligible for instant shipping.


AmiAmi's Original Service

My Account
A personal page named "My Account" is given to each user. Through the "My Account" page, you can check your order history, update your shipping address and change your shipping & payment method.
Watch List
Watch List is a system that you can use to keep track of the items you want. Please note that adding an item to your watch list does not secure stock of that item for you.
AmiAmi Points
AmiAmi Points are points rewarded based on the price of the item purchased. The points are added to your account approximately 17 days after an order is shipped and can be used in your future purchases at the rate of 1 point = 1 JPY.
Customer Support

Shipping Methods

Payment Method

Cancellations

Returns
Company Information

AmiAmi / Oh-ami Inc.
4-21-11 Koishikawa, Bunkyo-ku, Tokyo 112-0002 JAPAN
Phone: +81-3-3813-5851 (Mon-Fri 12:00-17:00 JST, except Japanese holidays)