(Pre-owned ITEM:B/BOX:B)figma - Kagamine Len(Released)

figma 鏡音レン キャラクター・ボーカル・シリーズ02
MAX Factory (Release Date: Nov-2008)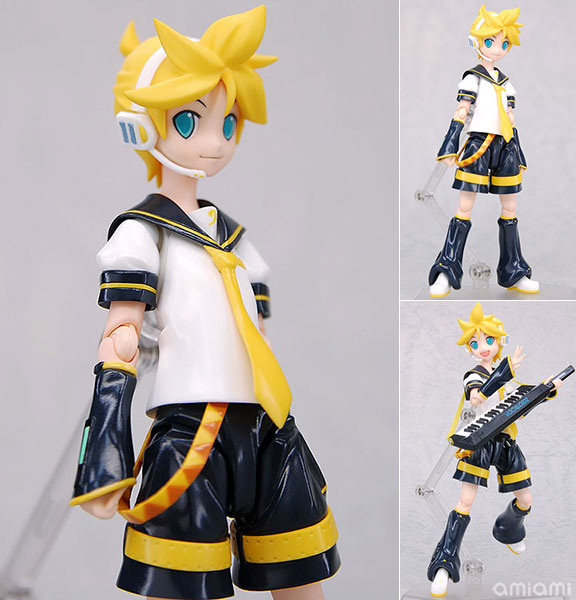 *Photos are of a prototype and the actual product may differ.

Image file name : http://img.amiami.jp/images/product/main/083/FIG-MOE-0141.jpg
© Crypton Future Media,Inc. ALL RIGHTS RESERVED
Specifications
ABS & PVC Pre-painted Posable Figure
Size: Approx. H140mm (non-scale)

[Set Contents]
-Main figure
-Base
-Face parts x 2 types
-Hand parts
-Shoulder keyboard
Details
Sculptor: Masaki Apsy - Max Factory

His singing voice will be heard all over your desk! The powerful singer, figma Len Kagamine!
Following the release of the Character Vocal Series' Miku Hatsune comes both Rin and Len Kagamine, here to join the figma brigade!

-The new joint parts allow for a smooth look, yet poseable movements, allowing you to pose many different scenes.
-Various areas make use of a flexible plastic, allowing the proportions to be kept, without compromising the posability.
-Both of his heads, his belt, his detailed expressions as well as the coloring all had a lot of work put into them.
-Two face parts and various hand parts are included, allowing you to pose him however you prefer.
-His shoulder keyboard is included, and its strap can be hung around him realistically.
-A poseable figma stand is included, which allows various poses to be taken.
Notice Regarding Pre-Owned Item
[Condition Ranking for Pre-owned Items]

Condition Ranking for Item
S: New - Guaranteed to be unused and unopened.
A: Like New - Item is sealed and is unopened or appears to be unopened.
A-: Like New - Item is not sealed by the maker but appears to be unopened.
B+: Very Good - Item has been opened but does not contain any signs of damage. All parts are included.
B: Good - Item has been opened and contains signs of minor wear or damage. All parts are included.
C: Acceptable - Opened item with conspicuous damage. Parts may be missing.
J: Unacceptable - Item is missing parts and/or is severely damaged.

The above ranking is offered as a guideline for users purchasing pre-owned items from our shop. We cannot accept returns or offer service for any pre-owned items for reasons regarding the item's condition. Please keep this in mind when placing your order.

Condition Ranking for Outer Box
A: No damage to the box is visible.
B: Some damage to the box is visible.
C: Box is clearly damaged.
N: No box/packaging is included. (item is loose)

- Product Images
All images are of new items. Please refer to the condition ranking for the actual condition of the product.

- Damage and Stains
Because pre-owned items are not procured from the maker, some items may contain damage or stains. Please only place orders for pre-owned items after understanding the nature of the condition of such items.

Remarks
For sale in Japan only.
Japan Style
Information
About "AmiAmi English Site"

This website is the English version of Japan's largest internet figure shop, AmiAmi. It is for both domestic English speakers and for international customers. Please note that most products are generally manufactured for the Japanese domestic market, and some items may be strictly for sale and use within Japan. Orders containing items that are unavailable for sale overseas will be automatically canceled and the customer notified.

Mail Communications

You should automatically receive an order acknowledgment mail shortly after placing an order at our store. If you do not receive a mail, please check your spam mail settings and make sure you are able to receive mails from our @amiami.com domain, and contact us using the Contact Us form on our website. Your order may be canceled if we are not able to contact you.

Payment Method

PayPal
- PayPal balance, eCheck, credit card
Credit card
- VISA, MasterCard, American Express, JCB, Diners Club
Cash on delivery (domestic only)
- 200 JPY COD fee required

Payment requests will be sent only after all items in an order are in stock.

Cancellations

Cancellations are not accepted.

Combined Shipping

Items may only be combined for shipping if they are all in-stock, or pre-orders scheduled to be released the same month. In-stock and back-ordered items can be combined with pre-order items scheduled to be released the current month.

Stock Status

The stock status of items at our store is updated regularly during business hours. There may be some cases where the stock status displayed on our website does not match our available stock and items that are shown on our website as available may actuality be sold out. Customers will be contacted if this occurs.
Shipping Methods

*EMS: 3-7 days delivery. Includes tracking and insurance up to 20,000 JPY. Recommended.
*Air Small Packet: 1-2 weeks delivery. Includes delivery confirmation and limited insurance up to 6,000 JPY. Size/weight restrictions apply.
*SAL Small Packet (Registered): 2-5 weeks delivery. Includes delivery confirmation and limited insurance up to 6,000 JPY.Size/weight restrictions apply.
*SAL Small Packet (Unregistered): 2-5 weeks delivery. No delivery confirmation, no insurance. Size/weight restrictions apply.
*SAL Parcel: 2-5 weeks delivery. Includes delivery confirmation and limited insurance. Some size/weight restrictions may apply.
*Sagawa Express: 1-2 days delivery within Japan via Sagawa Express. Includes tracking and delivery day/time may be specified. 500 JPY flat rate per order. Additional 200 JPY required for COD payments.


Delivery estimates are not guaranteed.

Shipping & Handling Fees (S&H)
We will inform you of the actual shipping rates for your items when your order is in stock and ready to ship. Please note that we cannot provide shipping quotes for pre-order items as we do not know their final size or weight.

Some rough estimates of EMS fees are as follows:

Small-Size Poseable Figure - appx. 1,500 JPY ~ 2,000 JPY, to North America
1/8 - 1/6 PVC Figure - appx. 2,000 JPY ~ 3,600 JPY, to North America
(Oceania is generally the same price, Asia is appx. 15% less, and Europe/South America are more expensive)

Please see our Payment/Shipping and FAQ for more detailed information.

AmiAmi Points

Purchases at our store may accumulate points based on item prices. Points for an order will be distributed approximately 17 days after order shipment, and may be redeemed for future purchases at the rate of 1 point = 1 JPY.

Watch List

Keep track of items by adding them to your watch list. Adding an item to your watch list does not secure stock of that item for your order.

Returns

All sales are final. No returns will be accepted, with the exception of defective items. Please contact us within 7 days of receipt if there is a problem with your item or order.
Contact Information

AmiAmi / Oh-ami Inc.
4-21-11 Koishikawa, Bunkyo-ku, Tokyo 112-0002 JAPAN
Phone: +81-3-3813-5851 (Mon-Fri 12:00-17:00 JST, except Japanese holidays)